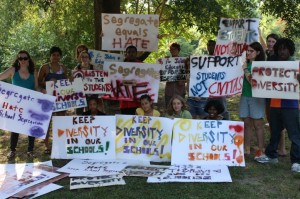 Build Power, Build the Movement, Organize for Change!
Calling Youth & Student Activists!
Do you want to organize for social, racial, economic, and education justice? Do you want to help communities build power & transform the world?
The Durham Solidarity Center is partnering with the Youth Organizing Institute and members of the NC Defend Education Coalition to host three interns this summer. Interns will learn media, communications, outreach, and organizing skills. Interns will work on ongoing campaigns for education justice, immigrant rights, and economic justice.
Learn how to organize and build for a mass mobilization. Learn strategic planning, development, and project management. Implement cutting edge new media, communications, and social media techniques. Help develop a popular education-style curricula and work with high school students who are organizing with their peers. Work with a legal team to develop a community pressure campaign to defend First Amendment rights. Help develop a campaign to challenge the School to Prison Pipeline.
Internships are currently unpaid, but we are seeking funding to enable us to offer a summer stipend. We are willing to work with your school to help you receive education credits. The internship is open to youth ages 16-25.
Summer interns will be expected to complete 100 hours and be available approximately 10-15 hours/week for 8-10 weeks. Some travel and weekend work will be required. Internships will be based out of the the Durham Solidarity Center's downtown Durham office.
Low income, women, immigrant and/or youth of color are strongly encouraged to apply. Please send a letter of interest and resume to actionforcommunity@gmail.com. Please ensure your documents include the following:
Name:
Address:
Email:
Phone:
Age:
School or any Organizational Affiliations:
Two references:
Why are you interested in this position?
What skills or experiences do you bring?
What do you hope to gain from this experience?
Deadline for applications is April 27th. Internship offers will be announced May 7. Questions? Contact Elena at 919-413-1276.