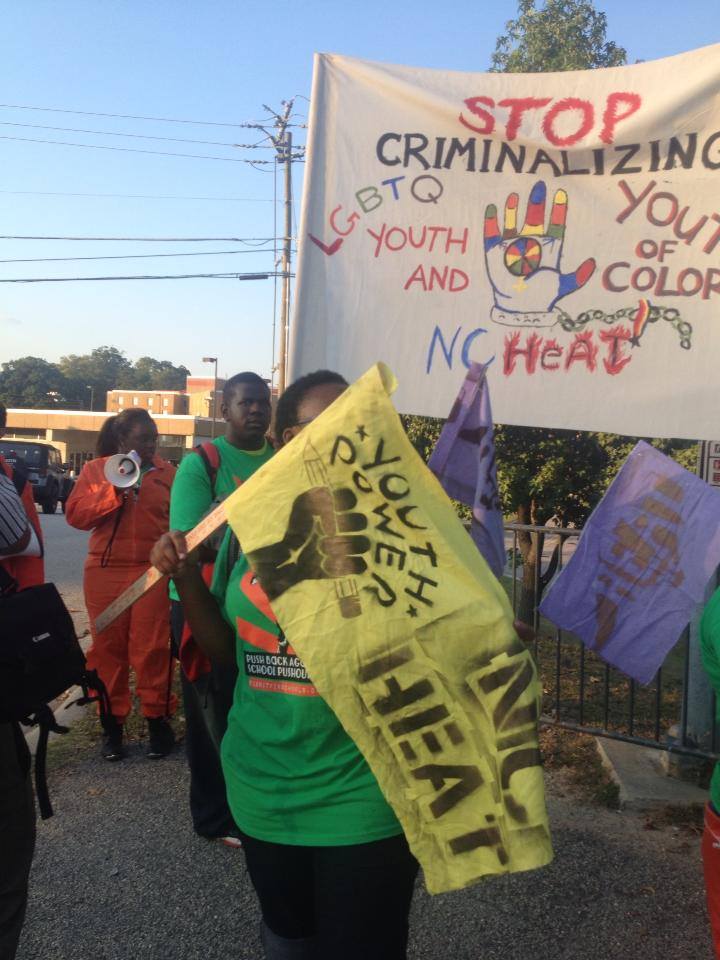 NC HEAT (Heroes Emerging Among Teens) held their 2nd annual Push Back Against Push Outs, a march against the school to prison pipeline and the prison industrial complex. The march was part of Dignity in Schools' national week of action against school pushout.
The march began with a speak out at Washington Elementary in Raleigh and proceed to Central Prison for a demonstration with music, drums and raised voices! High school students from across the Triangle led the powerful march that raised opposition to school discipline policies that disproportionately impact students of color and LGBTQ students.
See below for more information on school pushout that NC HEAT is distributing.
————————————————–
WHAT IS SCHOOL PUSHOUT?
"School pushout refers to the numerous and systemic factors that prevent or discourage young people from remaining on track to complete their education and has severe and lasting consequences for students, parents, schools, and communities. These factors include, among others, the failure to provide essential components of a high quality education, lack of stakeholder participation in decision-making, over-reliance on zero-tolerance practices and punitive measures such as suspensions and expulsions, over-reliance on law enforcement tactics and ceding of disciplinary authority to law enforcement personnel, and a history of systemic racism and inequality. These factors have an impact on all students, but have a disproportionate impact on historically disenfranchised youth." (www.dignityinschools.org)
————————–————————–————
FACTS ABOUT SCHOOL PUSHOUT:
• More U.S. students are being suspended and expelled than ever before. In 2006, 3.3 million students were suspended out-of-school at least once and 102,000 were expelled.
• North Carolina students received short term suspensions at the rate of 22 suspensions per 100 students.
• During the 2009-2010 school year, Black students in Wake County Public Schools were 6 times more likely than white students to receive a short term suspension and 7 times more likely to receive a long term suspension. Close to 1 out of every 5 Black students received at least one suspension or expulsion.
• Education Week estimates that 53,848 North Carolina students who started ninth grade in 2006 did not graduate four years later.
• Education Week also identifies the Charlotte-Mecklenburg school district as one of 25 "drop out epicenters" in the U.S. and estimates that 6,386 of the district's students who started ninth grade in 2006 did not graduate four years later.
————————–————————–————
WHAT IS THE SCHOOL-TO-PRISON PIPELINE?
"The School to Prison Pipeline is a nationwide system of local, state and federal education and public safety policies that pushes students out of school and into the criminal justice system. This system disproportionately targets youth of color and youth with disabilities. Inequities in areas such as school discipline, policing practices, high-stakes testing and the prison industry contribute to the pipeline.
The School to Prison Pipeline operates directly and indirectly. Schools directly send students into the pipeline through zero tolerance policies that involve the police in minor incidents and often lead to arrests, juvenile detention referrals, and even criminal charges and incarceration. Schools indirectly push students towards the criminal justice system by excluding them from school through suspension, expulsion, discouragement and high stakes testing requirements."