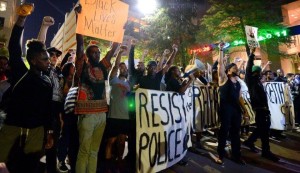 The DSC mobilized to support the Charlotte Uprising
The Charlotte Uprising has uplifted the voice and power of the people to fight against police violence and oppression. The DSC supports the demands of the Charlotte Uprising. The Durham Solidarity Center has mobilized to support the Charlotte Uprising by acting as a resource hub for supply drop offs and critical bond funding support through our Freedom Fighter Bond Fund. Board members and DSC supporters have been in Charlotte since the beginning of the uprising, providing critical resource, jail, and legal solidarity support on the ground.
In addition, through the Charlotte Uprising network and other affiliated networks, the DSC Freedom Fighter Bond Fund has become a main source of bond solidarity. The Fund has been essential to freeing activists on the front lines of the Charlotte Uprising. Charlotte needs YOUR support. Please donate what you can to the Fund and circulate Fund information to your contacts: http://durhamsolidaritycenter.org/bondfund/
-Alissa Ellis
If you know someone in Charlotte who needs legal support, our legal team can be reached at our jail support hotline: 704-769-0243
http://www.charlotteuprising.com/
We still need more help on the ground from people trained in legal support and medics. Legal solidarity training is taking place daily at 11:30am at Mission Gathering. If you are available, please come get trained! 
Raise Up the People's Voice at Governor Debates
As McCrory and Cooper debate, demand:
1. Stop Police Violence and Murders
2. End Cooperation with ICE
3. Welcome Syrian Refugees, End Islamophobia
4. $15/hr Minimum Wage and Collective Bargaining Rights for all Workers
Tues. Oct 11
6:00pm
UNCTV Station
10 TW Alexander Dr.
Durham, NC
The election process is disempowering for working people. No matter who is elected to President, or Governor or any office, the people must continue to organize and hold them accountable to our needs.
Join the Triangle Unity May Day Coalition efforts to build a genuine Peoples' Assembly!
For More information contact Triangle Unity May Day Coalition at 919-539-2051