Join us in downtown Raleigh for Historic Thousands on Jones Street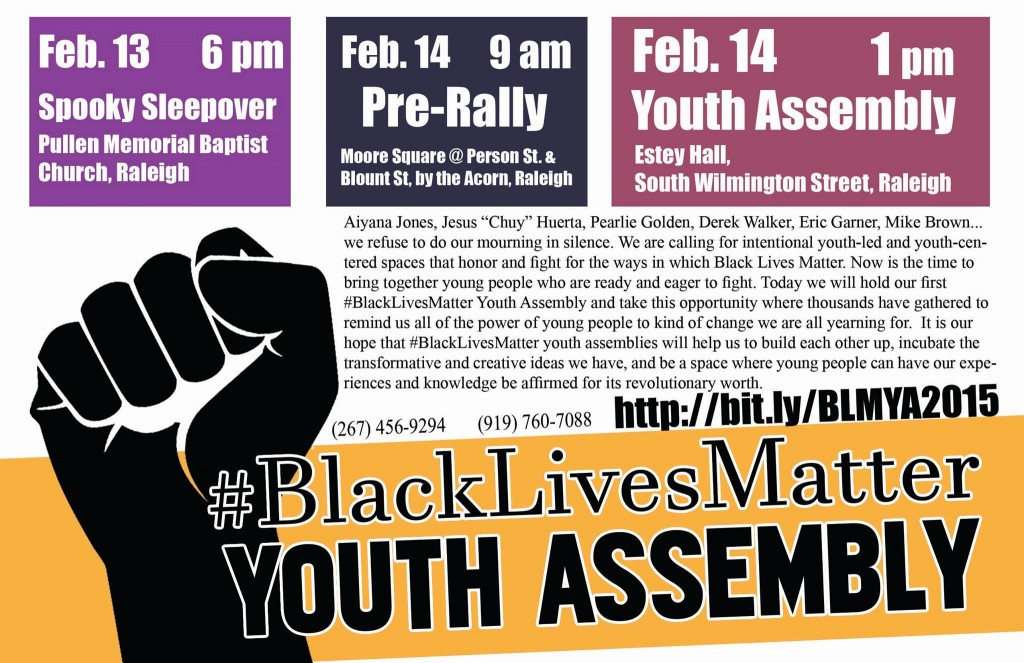 Come out for Justice on Valentine's Day!
This Saturday, February 14, will mark a major day in the fightback for workers, students, and people of color across the South. Beginning at 9 AM Saturday morning in downtown Raleigh, the 9th annual Moral March on Raleigh and the Historic Thousands on Jones Street People's Assembly (HKonJ) will be held.
Organized by the NC NAACP, the Historic Thousands on Jones Street began in 2007 as an effort to organize people against extremist attacks on voting rights, workers' rights, and social justice.  While the first march in 2007 drew 3,500 people, last year's event saw over 30,000 in the streets of Raleigh.
Even with the great success of the Moral Monday movement in North Carolina, a great amount of work remains to be done.
In the spirit of building broad United Front to #endthewaronyouth, several young people have organized the first ever state-wide Black Lives Matter Youth Assembly to take place at historical Shaw University at 1pm after HKonJ.  This space is exclusively for folks under 35 to discuss, exchange, and take collective action for change.
Join the people of North Carolina as they stand against these attacks on our rights, and work to build a future based on equality, social and economic justice.  People Over Money!
DPS Workers Win Fight for Back Pay
Durham Public Schools custodial workers recently won their fight for 22 days worth of back pay. These workers, employed by the now-bankrupt Integrity Facilities Management who DPS contracted with, found themselves out nearly three weeks of pay just before the Thanksgiving holiday. After workers organized, rallied, and protested, the Durham School Board voted unanimously to pay 130 custodial workers nearly $200,000 in back wages.
However, while many of the 143 workers were given their wages, 40 former workers, who were undocumented, employees were not paid for their 3 weeks of hard work.  Following their bankruptcy filing, Integrity was sold to another contracting company, Premiere.  Premiere, agreed to pay the back wages but left behind the undocumented workers. In response, the former undocumented workers and their co-worker allies marched again on the DPS administrative office, even after threats.  Premiere announced that same morning that they would pay every worker what they were owed, regardless of status.
This is a huge victory for justice for the worker and immigrant community in Durham.  The Workers United Will Never Be Defeated.
Now onto April 15 to Raise Up for $15/hr and union for all low-wage workers, as well we also send solidarity out toward the Durham People's Alliance Living Wage Campaign!
Upcoming Events:
February 13 at Pullen Memorial Church – Friday the 13th Spooky Sleepover: Come out for a pre-HKonJ youth and student convening at the Pullen Memorial Church in Raleigh!  Make some signs, eat some pizza, and meet some great organizers from across the state.  Click here to RSVP!
February 14 at Shaw University – #BlackLivesMatter Youth Assembly: After HKonJ, make your way to Shaw University at 1 PM to meet with activists from all over the state fighting racist police and privatized prisons.
February 21 at the Hayti Heritage Center – Workers World Party Durham Branch Community Forum: On the 50th anniversary of the assassination of Malcolm X, come to the Hayti Community Center to discuss the legacy of Malcolm X and his continued importance in the struggle for equal rights worldwide.
February 27 at UNC Charlotte – UNC Board of Governor's Meeting:  NC Student Power Union mobilizing students, faculty, staff and community members from throughout the state to the meeting.  The UNC Board of Governors will announce which centers & institutes will receive budget cuts. All of the centers & institutes up for review work with marginalized groups of people including the Poverty Center, Stone Center for Black Culture & History and Juvenile Justice Center to name a few.
April 15, 2015 –  Raise Up 4/15: Fast food workers nationwide will be going on strike this day, marking a turning point in their heroic fight for $15 an hour and the right to form a union.