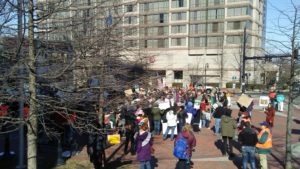 Only 19 days into his presidency, Durham has already held two rallies to protest Trump. On January 20th, we gathered downtown to voice our outrage at Trump's inauguration and stand in solidarity with those protesting at J20 in Washington D.C. and around the world. On January 27th, NC United for Refugees and Immigrants convened the public and media to speak out against the impending bans on travelers, immigrants, and refugees. Stay tuned for more actions like these. We're just getting started!
We Moved!
The Durham Solidarity Center has moved out of the Hayti Heritage Center and into a larger space at 1803 Chapel Hill Rd. (Suite C) in Durham. We are very excited about our new home! We will be offering meeting space and equipment rental once we get settled into our new space.
Of course, we couldn't have made it this far without the awesome facility and staff at the Hayti Heritage Center! Please take a moment to check them out here.
You can come visit our new office on Sunday, April 2nd when we have our Open House!
Workers World Party- Durham Branch Presents:
Black Marxism: From Reparations to Du Bois to Black Lives Matter
Sunday, February 12 | 4pm
1803 Chapel Hill Rd, Suite C | Durham, NC
Join us for an engaging political discussion on W.E.B. Du Bois' masterpiece, Black Reconstruction in America, 1860-1880.
In 1935 William Edward Burghardt Du Bois published Black Reconstruction, a sweeping analysis of the Civil War and Reconstruction period. Using a Marxist analysis, his work responded to a trend in historical analysis that, at best, completely ignored the role of enslaved and free Black people in the two events, or, at worst, framed them in racist stereotypes. On the contrary, Du Bois asserted, the outcome of the Civil War was entirely dependent on the role of Black people in it. Further, the demise of Reconstruction was the counterrevolutionary destruction of a move towards a labor dictatorship in the U.S.
We will discuss:
—> Du Bois's Marxist analysis of the Civil War and Reconstruction period
—> Why and how Du Bois – the leading Black intellectual of his time – turned to Marxism
—> The centrality of the Black liberation struggle to all other struggles – then and now
The discussion will be led by LeiLani Dowell, a managing editor of Workers World newspaper.
RSVP and Share on Facebook
New Space, New Opportunities
Alissa Ellis will be joining Josh to provide office and administrative support for our new space, helping coordinate space and equipment reservations. We are excited to share our space and equipment with folks doing the great work of fighting for justice in our community. Look out for an update on our online reservation systems once they go live!
Triangle Unity May Day Coalition People's Assembly
From Coalition Member Ben Carroll:
We had a powerful gathering this past weekend with over 100 people from many different struggles and organizations for our second Triangle People's Assembly. Thanks to all of you who came up and contributed to the rich discussion about how to build the fightback in this period of Trump.