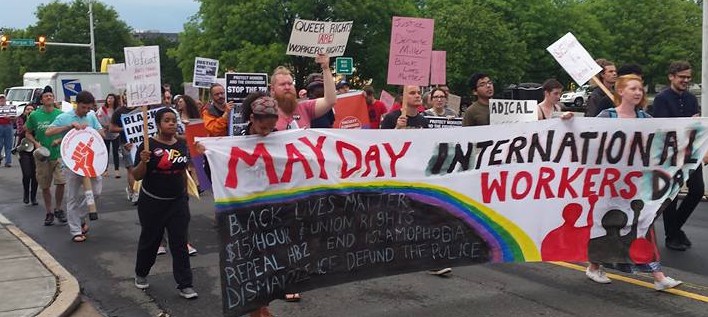 JUSTICE & POWER TO THE PEOPLE! NO TO KKK AND TRUMP AGENDA!
Saturday, December 3 | 12pm | Moore Square Park, 200 S Blount St, Raleigh, NC
---
TRIANGLE PEOPLE'S ASSEMBLY – AFTER ELECTION OF TRUMP, WHAT NOW?
Sunday, December 4 | 2pm | 700 S Salisbury Street, Raleigh, NC
Donate today to support People-of-color and worker-led organizing in North Carolina to defeat Trump and the KKK
THIS STATE BELONGS TO THE PEOPLE, NOT TRUMP AND THE KKK! No white supremacy and state violence! We won't go back!
On December 3, the terrorist Ku Klux Klan, are scheduled to hold a "victory" parade in North Carolina to celebrate the electoral win of Donald Trump. Following the 2016 presidential election of the notoriously bigoted Donald Trump, the country has witnessed a resurgence of hateful rhetoric and violence aimed at immigrants, Muslims, Black people, LGBTQ people, women, disabled people and all oppressed people. Many important public services that provide basic human rights are also on the chopping block.
The Triangle Unity May Day coalition includes many groups and individuals united to counter overt and systemic oppression. We are a people-of-color and worker-lead coalition that is doing deep organizing in our communities. As Trump and his followers, including the KKK, plans to demonstrate their unabashed hate for marginalized groups, we will demonstrate our unity with an unrelenting fight for justice. Our campaigns for justice, dignity and power will go forward no matter who is the White House!
We are building a united movement for people's power to lift up the struggles of immigrants, Muslims, Black people, women, LGBTQ people and all of the working class. Trump, the wealthy and Wall Street continue to perpetuate violence, hatred, racism, bigotry and war. We unite in our struggles against these forces and work towards dismantling systems and structures that oppress while building towards equitable and just alternatives, and building people's institutions, such as the People's Assembly.
All money donated will go towards the work of the Triangle Unity May Day Coalition that will include:
Organizing a mass rally of several thousand on December 3 to counter Trump and the KKK, and to show our people's power!
Building a genuine People's Assembly across North Carolina to bring social movement organizations, and newly energized people together to build people's institutions and people's power.
Supporting campaigns of organizations lead by Black, immigrant, and Muslim people and workers.
THIS STATE BELONGS TO THE PEOPLE, NOT TRUMP AND THE KKK!
DONATE TODAY TO HELP STOP TRUMP AND THE KKK IN NORTH CAROLINA!