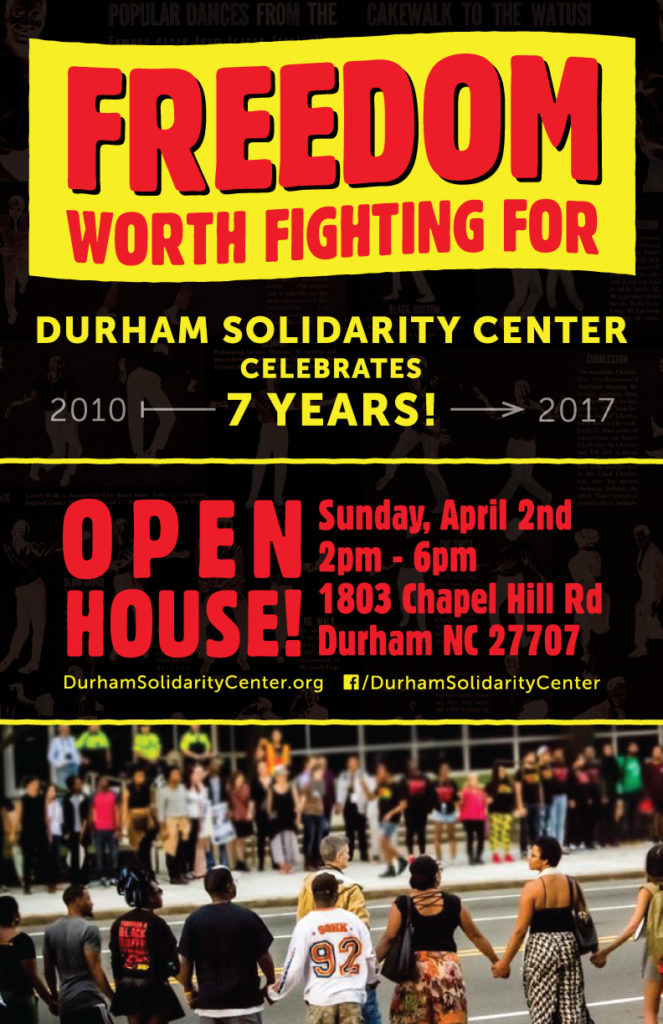 Help us celebrate 7 years of freedom fighting and see our new digs! We've got some fun activities, presentations and surprises for all ages in the works! If you would like to help us plan, get the word out, decorate, and throw an amazing party, email info@durhamsolidaritycenter.org to join our Open House Planning Team!
DSC Conference Room Reservations
Our new space has a small conference room that is available for rental on a sliding scale. The room seats up to 50 people and has a bathroom, small kitchenette, and wall for projection.
Visit http://durhamsolidaritycenter.org/reserve-conference-room/ to make a reservation!
Fight Back Fridays:
Volunteering & Co-Working
We are opening up Fridays at the Durham Solidarity Center for folks who want to help us set up, beautify, and organize, our new, larger space. We also want to provide space for folks to come together to work throughout the day on Friday.
Join us each Friday between 10 am – 4 pm!
Organizing for May Day: the third People's Assembly
Over 100 community members came out to the third People's Assembly on Saturday, February 25th, in Durham to begin planning for a monumental May Day this May 2017! Representatives from many of the local struggles for Black, immigrant, Muslim, worker, woman, environmental, and electoral rights and power showed up.
The People's Assembly has established multiple working groups to continue the important work of building people's power across the Triangle-area. The DSC is excited to join community members and many organizations as we build towards May Day 2017.
Email trianglepeoplesassembly@gmail.com or call (919) 539-2051 to get involved or check us out on Facebook.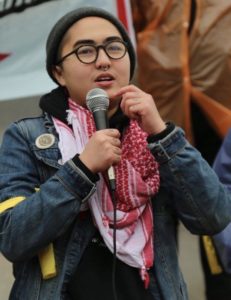 Loan on why they support the Durham Solidarity Center:
The Durham Solidarity Center's commitment to the movement shines through with every crisis that breaks out, at every action, and wherever the frontlines take our people. The DSC helps us stay ready to take the streets, put our bodies on the line, and convene under a banner of unity, solidarity, and so much more. I am grateful for how DSC holds our community up and enables us to stay focused on the long battles ahead!