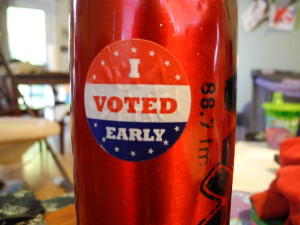 Voting alone isn't going to change the world, but that doesn't mean you can skip it! Get registered and spend a few minutes to vote for your favorite team at these times and locations and, if you need some guidance, here's links to a couple of local endorsements:
Independent Weekly endorsements
People's Alliance endorsements
-Early voting (with same day registration) in Durham until 11/5
-"Regular" voting on November 8
Graphic by PB Project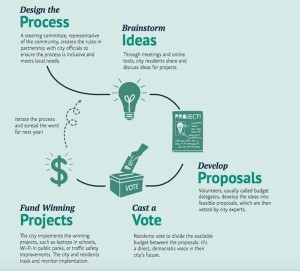 Advocate for Participatory Budgeting at City Hall!
Participatory Budgeting is a process wherein residents vote on how to spend part of a city's budget. The Durham City Council will be holding a presentation and discussion on PB at their work session on November 10th at 1pm. Members of the public can sign up to speak about PB at this time as well. This is a great opportunity for us to learn where the city is in this process and to advocate for the council to bring PB to Durham. Come make your voice heard! more info here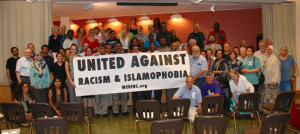 Report from Protest Against Anti-Muslim Talk in Chapel Hill
We had a powerful protest against ICON and Diana West's hate speech at Extraordinary Ventures venue hall in Chapel Hill on Tuesday [10/18]. About 15 participants from different organizations joined the protest yesterday. We had a great diversity of different faiths (or not faith), ethnicities, ages. ICON lecture invited about 50-100 almost all white and predominantly wealthy attendees judging from expensive cars. We were met with few fans from ICON (Diana West and ICON staff took our pictures without our permission) who indulged in name-calling and stereotyping us (calling us leftist lemming/communist).
Miriam Thompson from AIME (Abrahamic Initiative on the Middle East) and I briefly met manager of EV, Paige, before the protest. She said that EV will re-consider their contract with ICON. We hope they will seriously follow on that. We also read the following statement from EV in Herald-Sun article (read more excerpts below) which seems we had significant impact on EV administration.
"The people of Extraordinary Ventures do apologize and promise to do a better job in the future vetting (of) potential customers."
ICON has brought many speakers in the last 2-3 years, many even more virulent than Diana West. Tuesday's protest was the strongest reaction from Triangle community members against ICON lecture series.
–Manzoor Cheema, Movement to End Racism and Islamophobia (MERI)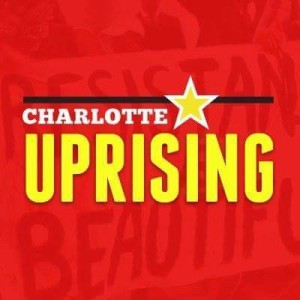 #CharLITuprising
"Charlotte Uprising is a coalition of community members, local and state organizers committed to ensuring the safety of their communities, and advocating for police accountability, transparency and social and economic equity." -charlotteuprising.com
The Durham Solidarity Center's Freedom Fighter Bond Fund supports the release of political prisoners taken during the Charlotte Uprising. To date, the fund has helped release over 60.
Check out Charlotte Uprising's demands on their website.