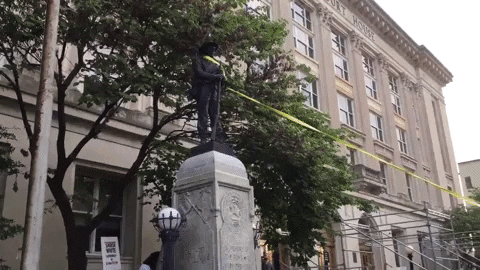 On August 14, 2017, in the aftermath of a weekend of white supremacist terrorism unleashed in Charlottesville, the community of Durham united to express their solidarity with the people of Charlottesville, and honor those who were injured or lost their lives standing against racism.  The Durham community then took matters into their own hands, tearing down the Confederate monument outside the old Durham County Court House.
In response, the Durham County Sheriff's Department has brought felony and misdemeanor charges against 11 anti-racist activists in connection with the monument toppling, and charges against 3 others stemming from a righteous outpouring of community opposition to a planned KKK rally in Durham on August 18. Read their statement.
The events in Charlottesville and Durham have lit a spark of resistance across the country to the neo-fascist, far-right, and white supremacist forces who have been emboldened by the Trump presidency.
Come back for updates, subscribe to the Defend Durham FB page and get text alerts by texting 'DefendDurham' to 64336