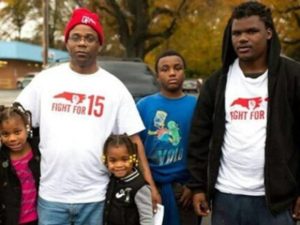 DONATE TODAY to Fight for Justice for Abdul Burnette and all Durham County Jail Inmates!  
Abdul Burnette, 20 years old was arrested on September 23 for three misdemeanor charges. Yet he was given a $10,000 bond, typical of felony charges. His father, also named Abdul, a leading fast food worker in the local Fight For $15 movement, attempted to post bond but was not allowed to bond him out. This is why we demand ABOLISH BOND!
Before being convicted of any crime, a judge sentenced him to a 60-day "Starr and Grad" drug rehab program inside the jail. This is why demand END CRIMINALIZATION OF PETTY MARIJUANA POSSESSION!
According to his family, he has mild autism and is not competent to stand trial. Due to his medical condition, he is required to take medication. The Durham County jail is now charging him $20 per pill that they administer to him. The family is not allowed to provide any medication they previously bought. This expense has been a burden on Abdul and his family while he is locked up. This is why we demand FULL ACCESS TO AFFORDABLE HEALTH CARE and END CONTRACT WITH ABUSIVE, EXPLOITATIVE CORPORATIONS
Earlier this year, on April 24 young Abdul was also assaulted by a Durham police officer, Officer Offenburg, on the corner of Fleetwood St. and S. Alston St. in east Durham. His father has filed a complaint with internal affairs of the Durham Police Department and it is still under investigation. This is why we demand END RACIAL PROFILING AND POLICE BRUTALITY!
"The Durham County jail is violating my son's constitutional rights. We are going to keep fighting until we get justice!" stated Abdul Burnette, the father.
This same jail is scheduled to begin video visitation this week (Oct. 15) for families of those locked up, denying them basic right to visit their loved ones in-person, rather they will be forced to only communicate through a screen ran by a private corporation. This is why we demand FULL IN-PERSON VISITATIONS!
This past weekend, young Abdul was being picked on and attacked by another inmate. In his self-defense he fought back. He is now placed on "lock-back" solitary confinement for the next 30 days and all family visitations have been cut-off. This is why we demand END LOCK-BACK and SOLITARY CONFINEMENT!
This is happening amidst many local struggles in the Durham County Jail including five deaths of inmates in recent years, including the death on March 23, 2017 of 17-year-old Uniece "Niecey" Fennel. This is why we demand NO MORE JAIL DEATHS!
Free Abdul Burnette now!
Abolish bond!
End Criminalization of marijuana possession!
Full access to affordable healthcare for all inmates!
End the contracts with the abusive, exploitative corporations!
End racial profiling and police brutality!
Full In-person jail visitation!
No more jail deaths!
DONATE TODAY to Fight for Justice for Abdul Burnette and all Durham County Jail Inmates!
CALL TO ACTION:
Join the weekly demonstrations at the Durham County jail  (219 S Mangum St., Durham) sponsored by Inside-Outside Alliance — 6:00pm, Friday October 13 (and every Friday)