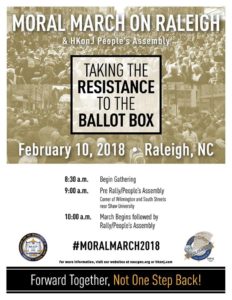 February 10th- Moral March on Raleigh and HKonJ People's Assembly
"The HKonJ Coalition holds an annual mobilization called the Moral March on Raleigh & HKonJ People's Assembly. It has grown to approximately 80,000 in 2017! Each year, on the 2nd Saturday in February, thousands of HKonJ marchers flood downtown Raleigh, NC where the HKonJ People's Assembly convenes and ultimately marches to the North Carolina State Capitol. The HKonJ Coalition has continued to hold Moral Monday mass demonstrations at the state capitol while also fighting extremist laws and legislators in the courts and at the ballot box. We successfully won three voting rights lawsuits that overturned key aspects of the 2013 voter suppression law and found both the congressional and state districts in North Carolina to be racially gerrymandered and unconstitutional."
Moral March & HkonJ Event Link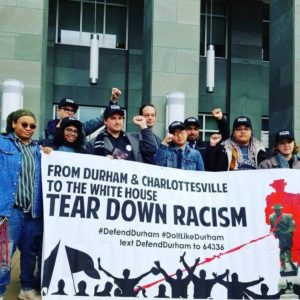 February 19th- Defend Durham Arrestees Trial
On August 14, 2017 Durham residents took down the supremacist Confederate soldier statue in front of the Durham Courthouse. This occurred just two days after Nazi's and KKK rallied in a "Unite the Right" rally in Charlottesville, VA to defend Confederate statues and killed an anti-racist protester, Heather Heyer. The Durham action was another powerful expression of people's anger and disgust with how the system uses its power to remind Black, Brown and oppressed people of their "place" and ongoing oppression and exploitation.
After Heather Heyer's murder by white supremacists in Charlottesville in August, Confederate flag sales quadrupled. In Durham, people took the Confederate monument down themselves – demonstrating that many feel they should take matters into their own hands when governments attempt to stop progressive social change.
In 2015, the Republican-dominated NC State Legislature passed a bill that took away authority from local city and county governments to remove Confederate statues from their property, GS § 100-2.1. This is the same state Legislature that the US Supreme Court ruled gerrymandered voting districts based on race with "laser-like precision". The state Legislature also passed similar legislation – HB2 — that eliminated local governments' power to protect transgender people from hate crimes, or enact protections for workers from abusive employers, like raising the minimum wage and improving working conditions for contractors.
After countless court dates where Durham activist and community members showed up in front of the Durham County Courthouse to support the arrestees for their brave actions, the state has decided to take the 8 freedom fighters to trial. Supporters are demanding all charges be dropped and all confederate monuments be taken down immediately.
Defend Durham and the arrestees are asking for supporters to show up to the Durham County Courthouse, on February 19th, while they face charges for challenging white supremacy and toppling racist monuments.
#ISupportRemoval #DoItLikeDurham #DroptheCharges against anyone charged with removing the Durham Confederate statue!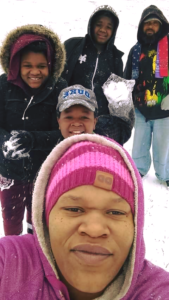 Elijah's Fundraiser
Pictured above is Elijah's family. He is one of the arrestees from the anti-Klan demonstration in Durham on August 18, 2017. Elijah's landlord has refused to extend his lease because he was arrested in the Confederate statue toppling aftermath. He courageously showed up to protest in defense of the Durham community; let's show up for his family with a massive show of solidarity and care. It's so cold outside! Let's make sure our neighbors are warm and safe.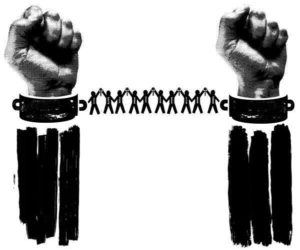 Inside-Outside Alliance Monthly Letter Writing
Inside-Outside Alliance supports prisoners' struggles on the inside and participates in struggles on the outside against our system of injustice that includes police, prisons, courts and immigration laws — the revolving door of incarceration.
"Join Inside-Outside Alliance to write letters to our comrades on the inside. We invite everyone who hates prisons and loves prisoners to join us. We will have a letter writing list, stamps, envelopes, and copies of the "Feedback" newsletter to send in. Feedback is composed of writing, letters, stories, and poetry from detainees in the Durham County Jail." -IOA
Join Inside-Outside Alliance Monday, February 26th at the Durham Co-op from 7pm-9pm
IOA Monthly Letter Writing Event Link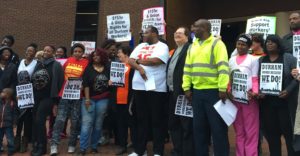 ATTENTION ALL WORKERS IN DURHAM: SPEAK-OUT!
Newly-founded Durham Workers Assembly is calls on all Durham workers to speak out for better wages, job safety, an end to sexual harassment and discrimination, better job security and more union rights!
"We must organize and fight-back together — workers in all sectors — fast food workers, city/state workers, domestic workers, restaurant and hospitality workers, manufacturing workers, teachers, adjunct professors, laundry workers, bus drivers and more to build a better Durham. Durham is a #UnionTown" -DWA
"The purpose of the Durham Workers Assembly is to:
1.  Empower workers to organize on their jobs. Create a venue for workers from various employers to feel comfortable reporting on their working conditions and speaking out, and receiving assistance in building workplace organization on their job. This will include regular trainings and monthly workers assemblies (first Thursday every month).
2.  Establish standards and expectations for all employers, both public and private sector, inside the City of Durham such as a Workers Bill of Rights.
3.  Have broad community and labor participation so that organizing campaigns and demands made by workers on their employers are supported by independent power of the people and workers.
4.  The creation of a Workers Rights Commission which has a formal relationship with the City of Durham so as decisions made by the commission are followed up on by the City Manager, Mayor's Office and City Council." -DWA
Go to Unions4Durham.org to learn more.