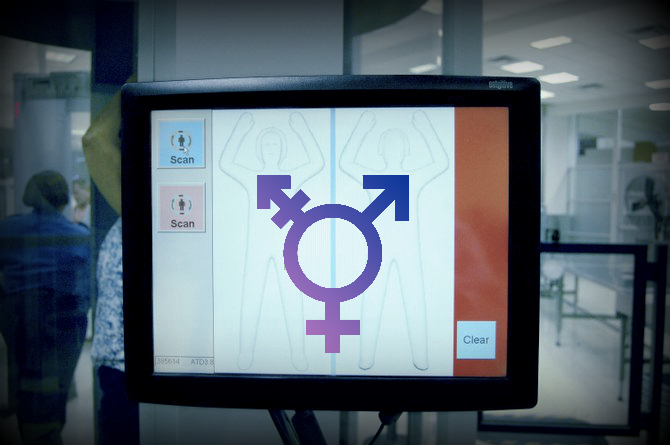 Please sign this petition demanding accountability from TSA and Raleigh-Durham International Airport! YOI is in solidarity with Dolores and all trans and gender non-conforming people subjected to this kind of violence.
To Representatives of the TSA and Customer Service Relations at the Raleigh-Durham International Airport:
We, the undersigned organizations and individuals, are writing to express outrage over the treatment of RDU passenger and North Carolina resident, Dolores Chandler, during an incident involving Transportation Security Administration (TSA) workers at the Raleigh-Durham International Airport (RDU) on Wednesday, December 9, 2015.  Further, we demand that TSA and RDU take steps to immediately reform their practices and issue a formal apology to Dolores Chandler (see list of steps at the bottom of this letter).
Dolores Chandler identifies as transgender and uses gender neutral "they/them" pronouns.  Dolores frequently travels for both work and in their personal life. Dolores wears upper-body binders on a regular basis.  This is a normal practice for transgender people; Dolores never anticipated that as a direct result, they would be subjected to a traumatizing and disrespectful experience at the hands of RDU's TSA agents.
On December 9, Dolores was catching a flight to New Jersey to attend a work-related conference.  Dolores is currently employed at the Orange County Rape Crisis Center as a rape and sexual violence prevention education specialist.  Upon exiting the full body scanner at the security checkpoint, two areas of their body were flagged: their front/crotch area and the left side of their chest.
The following is Dolores' account of the incident:
"I consented to the first of several pat downs, which happened in public. The TSA agent ran her hands along my left side and felt what she called an 'anomaly' because my left side was not the same as my right side. She asked me what I had on and I replied, 'My undergarments'. She then leaned down to look at my front/crotch area and said, 'Now what do you have going on down here?' as she lifted my shirt slightly and prodded my around my waist. Looking at someone's crotch and asking, "What do you have going on down here?" is not an appropriate question to ask anyone, regardless of their gender or gender presentation.
While in public, the TSA agent repeatedly and loudly referred to my chest area as having an 'anomaly'. I explained what I was wearing at least two more times, and requested a private screening. I was led there by 3 TSA agents.
Once in the private screening room, I was questioned again about my undergarments. Several times, I said to the TSA agents, 'I am wearing something that has clasps on the side.' While attempting to communicate to the TSA officers that I was feeling stressed and uncomfortable, I was cut off and told 'there's no need to get emotional' and patted down again. The TSA officer shook her head at me and stated that there was an anomaly that she was unable to clear-up and that until the anomaly was cleared I would be unable to board my flight. Another supervising TSA agent informed me that if I felt so strongly, they could ask law enforcement to be present.
Another female supervisor was called in for another pat-down. She stood behind me and patted down my upper body. She felt and dug deeply into my armpits. She held up a paper sheet in front of me and instructed me to hold it with each hand while I lifted my shirt with the opposite, so that she could inspect underneath. I'm not sure what the sheet was intended to do because she leaned over to look beneath my shirt at my binder.
When they were done, they told me to have a good day and walked out of the room, offering no apology and leaving the door wide open.  I left the room and walked toward my gate in tears, I finally found a quiet place in the 'family bathroom' where I sobbed for a long time."
Dolores filed a formal complaint through the TSA's website and received an inadequate response from RDU TSA Customer Service Representative, Karen Merrit, in which she stated that the TSA was following protocol.
While we understand that the TSA's top priority is security, the TSA also claims as part of its mission to treat travelers with fairness, dignity and respect.  In this case, the TSA agents failed to do so.  Dolores's treatment was insensitive, disrespectful, and done in public.
Dolores emphasizes that they have not had this experience at other airports.  In comparison, Dolores would like to uplift their experience Thanksgiving weekend at the airport in Austin, TX:
"I recently traveled to Texas for the Thanksgiving holiday and was pleased by the presence of "All Gender Bathroom" signs. While I was subject to a pat-down at the Austin Bergstrom International Airport, the TSA agent was extremely respectful, communicated exactly where they would place their hands and did not touch me elsewhere. To me this shows that the TSA and its agents do have the capacity to treat travelers with dignity and respect, while still prioritizing security and safety."
This experience is just one in a well-documented history of inadequate and insensitive treatment of transgender travelers by the TSA. The National Transgender Discrimination Survey indicated that 1 in 5 transgender travelers have reported harassment or disrespectful treatment by airport security.  Countless transgender travelers have been outed without their consent in the process of trying to get through airport security, which sometimes results in further harassment and mistreatment by TSA agents and other airport staff.
The burden of how travelers are treated to ensure a dignified experience should not be on the passenger, but rather written into the policies, procedures, and practices of RDU and the TSA. A traveler should not have to talk openly nor explain their gender identity and expression with strangers in order to safely board their flight.
Durham and Raleigh are fast becoming desirable travel destinations and Research Triangle Park is a high tech region that attracts international firms and enterprising start-ups.  RDU is often the first place encountered by those that travel to, or move to our area.  Adopting inclusive and sensitive best-practices should be a top priority for our airport authority.  We hope that RDU will use this as opportunity to re-evaluate its practices and procedures so that it can be a model to its peers for providing top quality, secure and respectful services.
We, the undersigned, demand that RDU do the following:
Issue a formal statement and apology that acknowledges the TSA agents' disrespectful treatment of Dolores Chandler.
Provide a list of steps the agency will take to ensure that problematic practices change (for example the practice of assuming a person's gender before they enter a body scanner).  These steps should include a timeline and be made in consultation with organizations that represent transgender people, including but not limited to the LGBTQ Center of Durham.
Provide adequate training for TSA agents and RDU staff on transgender competency and adopt a screening policy in consultation with the trans community.
Thank you for your timely response to these requests.
Sincerely,
We, the undersigned
* for identification purposes only
Dolores Chandler
The LGBTQ Center of Durham
The Durham Solidarity Center
The Youth Organizing Institute
Southern Vision Alliance
Ignite NC
Southerners On New Ground (SONG)
Jillian Johnson, Durham City Council Member, at-large *
Loan Tran, Board Member, GLSEN (Gay, Lesbian, Straight Education Network) *
Elena Everett, Director, Southern Vision Alliance